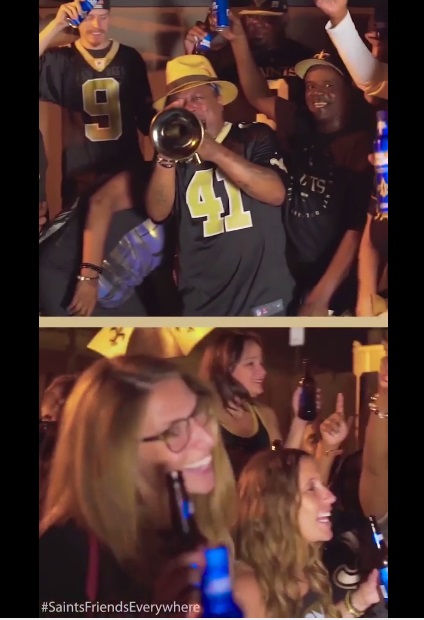 It's been a crazy couple of years but I'm hoping to get back to this blog. Maybe once a month? We'll see, haha.
I thought it would be interesting to report that I had a fun time appearing in the music video for a recent song by legendary New Orleans trumpeter Kermit Ruffins, titled "Saints Friends," which was filmed in July 2018. The video, sponsored by Bud Light, was released on the New Orleans Saints' Instagram (IGTV) page as part of the opening of their football season.
I'm including a screenshot of one of the best images of me; it's not great, as it was quite a jubilant crowd. I'm actually seen repeatedly throughout, however, as the camera pans, holding a black and gold umbrella. The screenshot is from around the 01:58 mark in the video. Also featured throughout is my Royal Consort, Mr. N, who accompanied me.
Again, we had a blast. Even if we did have to drink Bud Light.
Our poor Saints. They were doing so well. Alas …we have next year. Who dat.